9.30.2008
Simple event but a lot of fun.
1. Join
the Duck Tape Club
2. That's where you can download the Duct Tape Font.
3. The Welcome Kit gives you Trivia, History and a membership card you can use.
4.
Duct Tape @ the Movies
(I read some of these during one of the activities when they were working as a group.)
5.
How to make a Duct Tape Rose
.
6.
Duct Tape Pet.
7.
How to Make a Duct Tape Wallet
8.
Duct Tape Cartoons
9. Potential Duct Tape Games
What can you do with Duct Tape?
* Teams make a list of the most uses of duct tape. We had quantity and quality winners for creativity.
Roll it!
* Parking lot or Sanctuary see who can roll a roll of duct tape the farthest.
duct tape hockey
* Duct Tape is your Puck
Three legged race
* Duct tape the legs together
Stand up!
* Duct tape 2 guys back 2 Back and see who can stand up the fastest between the various teams
Duct Tape Pictures
* This was fun. I bought 8.5 x 11 foam sheets, cut them in half and gave each team 1/2 a sheet of the thin foam. That was their canvas and they each got strips of the
various colored duct tape
as their paint. (I got most of those colors at Wal-Mart in their paint section) I gave each adult on the team an exacto knife to help with the details.
Duct tape creations
* This was an optional activity to do before they came. To make something out of duct tape and bring it. The adults judged the entries. I will post pics as soon as they are put online.
Duct Tape Frisbee Toss
* Wal-Mart's craft section provided this idea. Small round foam discs are covered in duct tape and then thrown in games or at each other.
Duct Tape Ball N Cup Catch
* Have each student wrap the outside of a styrofoam coffee cup in duct tape and each pair makes a duct tape ball a little smaller than a tennis ball. Then it's an old fashioned egg toss.
Duct Tape Kick Ball
* Yep, wrap it up and play with your normal rules.
Duct Tape Wall Challenge
* Teams race to see who can duct tape a member of the team to the wall the fastest. Have person stand on a chair against the wall. first team to pull the chair away from the wall and ther person hangs on the wall for a minute wins.
Duct Tape Slide Show
* Thought about it but didn't get around to having a slide show of all the various uses of Duct Tape.
The Duct tape wallet and Rose instructions were given to the students as handouts when they left.
We only had two details in promoting it. 1. Everyone was asked to bring 2 rolls of duct tape and one was fine. 2. Create anything with duct tape and bring it to the Duct Tape Night to be judged.
Prizes included old plastic cups in various sizes wrapped in duct tape.
Two small paper back bibles wrapped in Duct Tape. Guys got Black and girls had a cool striped one with a flower on it that one of my students created.
Wrapped an old tin container with a lid in Duct Tape and suddenly it's a cool container for that misc stuff.
Mr. & Mrs Duct Tape: I wrapped a Ken and Barbie doll in various colors of duct tape for their clothes and mounted them with duct tape, of course, to small candle stands so they became tropies.
Duct Tape Devo:
Jesus is like Duct Tape, He can fix anything.
9.23.2008
Did You Lose Your Horse Today?
Like most of you, I have been hearing a lot of personal examples of "disaster" this week. No gas, no job, no retirement fund, worthless stock, cancelled vacations, and general uncertainty. Rather than trying to create something profound I'd like to share this old story.
Once there was an old man who lived in a tiny village. Although poor, he was envied by all, because he owned a beautiful white horse. People offered fabulous prices for the horse, but the old man always refused. "This horse is a friend, not a possession," he would respond.
One morning the horse was not in the stable. All the villagers said, "You old fool. We told you someone would steal that beautiful horse. You could at least have gotten the money. Now the horse is gone, and you've been cursed with misfortune."
Read the rest of Dan Miller's story
9.22.2008
How does a leader know they are right?
A seminary student, who was in my first youth group soo long ago, wrote the following to his trusted contacts a few days ago:
I had the opportunity to walk across Gordon Conwell Theological Seminary with Chuck Colson. Given his extensive roles in leadership, I asked him about leadership.

Given that all of you have lived in life for a while, and many of you had either had leadership positions or have dealt with people who are leaders, would you please answer the following question:

How does a leader know when they are right and, in the face of opposition within and without, stand their ground and remain true to their idea of "right", versus knowing when to humbly admit being wrong even when he/she was previously convinced of his/her being in the right?
Here is my quickly written response:
Right for me is determined by my understanding of biblical principles and my personal values on how those principles should and could be lived out.
Opposition can be taken on with full force when it's over a 100% clear biblical principle, (If someone is against evangelism or the Virgin Birth, there is no wiggle room) however most conflicts occur over style and fleshing out of the values. And even though there really isn't a biblical mandate on how something should be done, from the kind of building to build, style of worship to use, or even what to serve at a church potluck, people can and will get upset over it not being their way.
When leadership (Most often times, that doesn't include the youth pastor) is agreed on the course of action then it's a matter of sharing it in a way that's understandable and people are able to buy into it. When people disagree with the plan of action, leadership should humbly listen and consider their issues because even our greatest enemy should have some truth about ourselves and our plans, though it may be exagerrated, when they share it with us.
You have to ask yourself is it worth it dying on this hill? Oftentimes, it's not. We'd like to think it is but in reality we think it is because we have a bigger value on our vision and goals than they are probably worth. Is it better to love and be wronged and hope eventually the other group (or the leader) comes together for God's glory or is better to be right and opliterate a person in the process?
It's very hard dealing with real people. But thankfully God is also dealing with us and we need to show the same patience to them that he gives to us.
Len
What would you say?
9.19.2008
Remembering Rich
Watched part of the
"Here in America" DVD
since today is the 11th anniversary of the bare footed ragamuffin going out like Elijah.
I still miss Rich. I want the following song played at my funeral.
9.16.2008
Nearly 7.5 Million Views




9.15.2008
What's Right with Youth Ministry?
My boy
Adam
just asked the question,
What's Right with Youth Ministry?
over at the
YS
blog.
Please share your answer with others.
Mine was:
Our students truly care for each other as much as possible for teenagers to do. Recently a student's dad had a heart attack and died while we were on our fall retreat. The outpouring of love and concern for her and her sister has been a testimony to our students faith.Real faith met the reality of life in our group and our students have met the challenge.
It's still hard to think about and even write about because he was so dear to so many of us. Being there with her while she got the news was the hardest thing I've ever had to do in ministry and I still hurt for them.
God was there amidst our pain and hurt and even during the rest of the weekend but it was a grueling emotional experience. I still cry when I think about it all.
9.09.2008
My Girls
9.05.2008
Free Friendship Mixer/Game

We're starting a short series on friendship this Sunday and here's something I did that will be used a mixer (Probably have them find a partner and fill it out together) as I introduce the topic. Use it as you wish, if you wish.

Fantastic Friends

1. ______________________
A Movie about Friends

2. ______________________
A Song about Friends

3. ______________________
A TV Show about Friends

4. ______________________
Famous TV Friendships

5. ______________________
Famous Friendships with Animals

6. ______________________
Something Friends do together

7. ______________________
Something Friends talk about

8. ______________________
Something Friends do for each other

9. ______________________
A Friend would help you . . . . . . .

10. ______________________
Best thing about having friends

9.04.2008
MVPedroria
(Yeah, he's the "Rudy" in the picture below)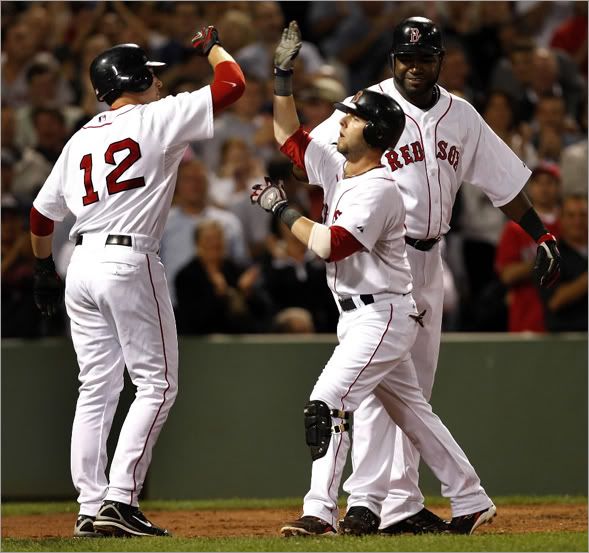 I think last year's
Rookie of the Year
in the AL has a decent chance to be this year's MVP.
The following text is taken from here: Definition of a "Gamer" . . . .Red Sox second baseman, Dustin Pedroia. . . . . . Not many teams can afford to lose three to four sluggers for significant time and not feel it, then again, not many teams have a 5'7" second baseman whose hitting .330 and batting cleanup.

That second baseman has knocked in 8 runs, hit two homers, and is hitting .615 over the past three games. A small sample? You can take the 76 RBI's and 17 home runs over the last 136 games if you'd like. Pedroia tops all competition for MVP with 110 runs scored and for a guy who is supposed to have "questionable speed", he's only been caught stealing once in eighteen tries. How about his defense? Compared with Ian Kinsler, fellow second baseman and MVP candidate, whose made 18 errors in 700 chances, it's no question. Pedroia has been playing gold glove defense this season, converting 85 double plays and just six errors in 633 total chances.
Pedroia's Latest Heroics & Pedroia Keeps Red Sox on Course
& from Little Big Man
Pedroia rebounded to be Rookie of the Year, and now he's hearing MVP chants in his second season. He could easily win a Gold Glove and the batting title. He leads the league in batting average, hits, runs and multi-hit games. He's third in total bases and doubles.
Pedroia is the first player in club history to have games in the same season in which he has scored five runs, knocked in five, and had five hits. He already has scored more runs and had more hits in a season than any other Red Sox second baseman. One more double will tie Jody Reed's club record for his position.
He's headed past 20 homers and 20 steals.
If the argument were who gets the most out of his size and ability, they could start engraving the MVP trophy now. But let's not start any engraving just yet.
He is just one of four second basemen to have 180 hits, 100 runs, 40 doubles and 15 home runs in a season. He also scored 33 runs in August, most for a Sox player in the month since 1950.
Sarabeth and I are going to see the Saturday Red Sox game when they play the Texas Rangers. Woo Hoo!
A Closer Look at the Death of the '08 Yankees
These Yankees are just not good or tough enough
9.02.2008