11.25.2007
Thanksgiving Service
Today was a special service at our church. Special in the sense that our church realizes the realities of travel and holidays so all we did today was one church service. Normally it's two but today it was one and there was no Sunday School for anybody. Before Roger preached he asked if anyone wanted to share with the church what they were thankful for this year. Like you would around the dinner table with your family. Why? We are a family. It was great to hear the stories of people who were loved by the church in various ways over this past year. One person even said they were thankful that I was there.
But before he said that, I had already been crying. As I thought over this past year and where we were a year ago and where we are today, I couldn't help but be overwhelmed by God's faithfulness to bring us here. And as I merely thought about being thankful for being at my church I began to cry.
I remember hearing Mike Yaconelli talk about as you get older you discover you cry over simple stuff like thinking about God's love. I use to make fun of that idea and laughed. Now I think I'm becoming that guy who cries over simple stuff at random times. I've cried more this past year than perhaps any 5 yr period in my life
I realized too while sitting there today how much I've missed the students and my church family over this past two weeks. The Atlanta convention was from the 14-19th, went into the office on the 20th and then holidays were Wed and Thur with Fri being the normal day off. So I've been out of the loop and it was a great re-entry for me into work life and church life to be at church this morning and reflect on what I was thankful for.
Links to Hit
Don't Chase Someone Else's Definition of Success
by Bill Allison
Hit the link and listen to the MP3.
More movies about Jesus based on any source *except* the best one
by Jeffrey Overstreet
Of course, if Hollywood decided to make a $20m action film about "the lost years" of Mohammed, I suspect there would be bombings and slayings somewhere in the world as a result. At the same time, the American media would be noisy with declarations that such a project was a show of "intolerance" and disrespect to Muslims. But this is Christianity, so… hey, let's celebrate yet another fiction that's bound to offend the believers!
advice to a college kid, and you
by McNair C. Wilson
I will give this sort of advice to my daughters and I would have the discussion of the value of this with my students and their parents but in many churches if you dared suggest anything but college as the next step for high school students you'd be in trouble. Just because you'd be in trouble doesn't mean you're wrong, it just means you don't understand the rules of where you are playing.
Your dose of Christian History –
Happy(?) Advent
11.20.2007
Jesus Junk Nomination
Last year's consensus winner of the Jesus Junk of the National Youth Worker Convention was
The Left Behind Video Game
. Who can forget that classic mix of Christian fiction and early 90's video game?
I hereby nominate the 2007 Winner of the Jesus Junk of the National Youth Worker Convention to be
The Gospel Shoe
. That's right, now you can wear your crocs and have
the wordless book
always available around your ankles. I love the wordless book and I am almost always wearing crocs but I don't think they go well together. If you like them together, buy them for your entire youth group now and watch revival fall!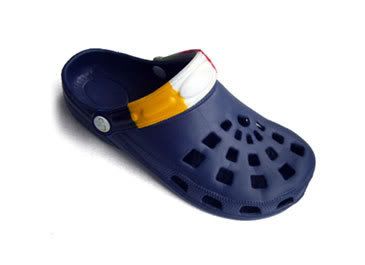 11.19.2007
National Youth Worker Convention #4

Sunday & Monday

Slept in a litte later than I wanted to but was able to make it over to the general session in time to hear Doug Fields. Doug talked about envy in ministry and did a wonderful job. The best thing about hearing Doug was realizing that I was no longer dealing with that on the same level that I had years ago. It all goes back to that "dark night of the soul" experience. I'm 100% content where I am in ministry and not just content but giddy about being able to serve there and work together in a community in an effort to love and lead teenagers. What a blessing.

The highlight of the morning though was seeing Noel & Cloe Howver. I had been praying for Jay and Jen almost daily for over a year regarding their adoption and to finally see these girls that I had been praying for was a pure joy. Looking foward to seeing those Christmas pictures. (hint, hint) Now praying for the next thing on their agenda. (I got your back on it and look forward to rejoicing when it happens)

Crowder and the band was the musical highlight for me. Such great guys from all that I've ever heard regarding their focus on their home church despite the touring.

Afterwards I met with Clint Chapman for the afternoon and we went and hung out and ate dinner before he headed home to the Auburn, AL area. Clint and I were next door neighbors and best friends from 4th grade through high school. We hadn't seen each other in probably 15 years but it was great to catch up. He, Mark Hall and I all went to the same Jr. high and those two went to the same high school. He talked about their 20th reunion where they played Casting Crown's "The Voice of Truth" and people slow danced to it. Too funny.

He had to go back in time for me to make the last evening session. It was good too. Aftwards I was tired and just headed back up to the room to hang out so talked to Adam a while and to Jay Delp for bit.

Monday

I've hardly ever been able to stay for the monday morning sessions but I scheduled a very late flight so I could this year and I'm glad I did. I went to a good portion of Joey Potters seminar and was able to see Tony Myles after his and tell him goodbye.

Before the last session started I found Mindi and gave her a bunch of my old Padres cards, because like Mike King and his Royals, who else would enjoy them?

Marko did a great job with his session. It was the only General session CD that I bought.

Now going home. Thanks YS for caring about youth workers!

National Youth Worker Convention #3 - Saturday
Went to the first general session last night and it was Phyllis Tickle. She did a great job explaining the Emerging Church movement in light of Church history, science and other things. It's way too much to try and cover but it'd be worth while to buy the CD.
After the session I met up with Darin again and we met and had lunch with Tony Myles. Tony and I have known each other online since probably 95 or 96 from the YS Listerve days but we had never met until today. It was a great time to hear what's going on with him, his family and ministry.
Afterwards I wandered around the Exhibit Hall with Darin collecting trinkets (Frisbees, t-shirts, pens, etc) for our kids. I have a handful of friends who are working various booths in the exhibit hall but I didn't realize that Bob Whittet and Mark Cannister were here from Gordon College. I was able to see them on Sunday and talk for a bit. Great guys despite some offhand comment about abandoing New England. ;-)
I was going to go to
Chris Folmsbee's
"Story, Signs and Sacred Rhythms: A Narrative Approach to Nurturing Students". But instead I went and had drinks (coffee and sodas) with Andy Brazelton, Chris Davis and a couple of other folks from Simply Youth Ministry. Andy and I met in Haiti on a mission trip in 96 when he was a junior or sopohmore in high school.
Walked in late to Folmsbee's seminar and then was able to hang out with him,
Doug
, and Matt for a while. It was fun to be a fly on the wall and hear a little about where Sonlife is going. I'm looking forward to the implemenation of the ideas.
Later we picked up
Riddle
and
Josh
and we went to
Fire of Brazil
. What an amazing feast! Then went and watched the OU game against Texas Tech. Poor Mark, it was a rough night to be an OU fan. But it was fun to hear the OU roots come out when he'd yell "C'mon now!" :-)
Then we had a pilgrimage to meet with more friends. Mark Matlock and his wife showed up and he helped battle some of the lulls. He told funny stories about his old art projects in college and the brain trust required to score Hanna Montanna tickets for his daughter.
One of my favorite things is being able to hang with like minded people for a few days to reflect on, argue about and discern issues in youth ministry. Then I get to go home, and reflect on what things my group is ready for and what needs to wait. True fellowship is amazing when among like minded people who are 100% honest.
11.17.2007
Friday

Late Thursday night went out to eat with a herd from YMX. Adam, Patti, Amy, Todd and others who I can't "tag" at the Hard Rock. That was fun.

I got a phone call before the first general session from Darin Easter and he said, "Where are you?" I said, "Atlanta". He said, "me too, I'm at the Omni, i'll be right over." so it was good to see Darin. We figured out that since we became friends when I was in 4th grade, we had been friends for 30 years. I finished the critical concerns course with Mike king about passionately pursuing Jesus. It was a good course and i'm not just saying that because he might read it. :-)

I grabbed lunch and saw Bob Long, the national coordinator for the Baptist General Convention. I had been on their national youth ministry task force, so we got caught up with each other.I went to Mark Yaconelli's "Dark Night of the Soul" afternoon seminar. Not to know if I was in one but to confirm that I had been in one. If I had a check list, I would have checked off 90% of them as I listened to Mark describe the things that are typical. Saw Brent Parker there, even though I did not know we was going to be here so that was fun.

Then had dinner with Darin and went to the general session. Third Day was there and I enjoyed them. Why? i'm not old and so are they. Called Tony Myles and we're going to get together in the morning some time.

After Shane Clairborne read the Sermon on the Mount as his general session address (which I think he's about the only one who could pull it off) I went to Jay's "So you want to get published" late night option. Some people ask very stupid questions. Not the "i don't understand how this works" questions but the "I'm not thinking and haven't tried to" kind of questions. that's all i'm saying except Jay was nice with them, funny at times but ultimately, nice.

While there I met Ken Rawson and that was fun except for when he said, "You're fat again!" basically. If Jay hadn't been there, I probably would have cried. ;-)

Afterwads talked to Jay a bit about some ideas. Now to convert the ideas to a proposal or two or three. We will see. I'm in such a good place (my church) that I'm able to love where I am which allows me to to relax, think, dream and be creative for my own ministry which overflows to possible book ideas. Saw Jim Hancock a little later. Always good to talk to Jim and hangout with new friends. Sometimes the conversations remind you of what church could be with the total openess and honestly.

11.15.2007
NYWC Wed & Thursday
On the flight out on Wed (after seeing the Beast of a man, Batista) I boarded my flight to Atlanta and before I sat down the woman in my row asked me if I was going to the National Youth Worker Convention. Though I have the classic "youth pastor goatee" she asked because happen to be wearing a free t-shirt that I got at the last convention.
She has a great story. She's a full-time volunteer for her church's youth ministry and she's the official youth director. She's been working with teenagers for over 20years and the church pays her way to go the conventions. It was fun to hear part of her story and to hear some of the things she's doing with her students to help them learn in interactive ways that involves all the learning styles.
I'm hoping to e-mail her and see if she'll share some of her thoughts with me because I think it'd work with my students. Discovered that we had at least one mutual friend, Cecil Linke. She's been involved with Sonlife and their SEMP in Dallas.
Got to the hotel and settled in a little and went down to the convention center (15-20 minute walk) to see if I could find any friends. I met with a friend from college, who I haven't seen in probably 16 years, who is in Atlanta. Great burger at a trendy bar and restaurant in midtown Atlanta. On a side note, I think the waiter thought it we were on a date because be brought out his ice cream, put it in the middle of the table and he brought (for all my Baptist friends, no worries, we drank only water) It went longer than planned so I was unable to meet another friend as we had originally planned but was able to hang out somewhere else with new friends.
My first roommate arrived this morning,
Jay Delp
, and we talked for a bit before heading over to the convention center. Jay posted his need at
YMX
and
Adam
, my other roommate, invited him to our room. Should be fun. I went to get my nametag at the headquarters and it wasn't there yet so wondered down to registration where friend made me one. It says:
Len Evans
Grand Poobah
Lubbock, TX
ALL ACCESS
I can now check off one my wish list items, having an ALL ACCESS pass at the National Youth Worker Convention. I'm going stalk all the artists behind the stage but especially The Marko and Tic in the green room. :-)
I went and wandered around the exhibit hall while it was still mostly empty and being set up. I found the
UnKommon Media
booth (BTW, if you think you have a great idea and other youthworkers could use it, and you want to get paid, please check out that link) and talked with Rick Bundschuh, Paul and Mary. Then I heard from
Doug Jones
and we went and had lunch. Great time hanging with Doug and getting to know him and his story. He needs to get on facebook, mind you, but it was great to begin our friendship in person.
He and I both attended
Mike King's
and Jeff Johnson's Crtical Concern Course. Caught up with Mike for a litte bit, we met years ago when I was on a late night panel with him, courtesy of
Riddle
, on Re-Imagining Youth Ministry. On a baseball note, because in case you don't know, 2007 World Champion Re Sox fan, I gave Mike some old Kansas City Royals baseball cards. He liked them and actually knew a couple of the guys. Oh and my flight buddy was there too.
11.14.2007
My Goals for the NYWC
I want to go deeper with some old friends.
I want to go connect with friends I'm only talked with online or over the phone.
I want to be open to what God would want me to do at my church in light of what I learn.
I want to finally do the Prayer Labyrinth.
I wan to attend
Jay's
late night "So You Want to Get Published" option so I can encourage a few people with "if I can do it, you can do it.".
I want to attend the worship times and not fall into the
hero worshipping trap
.
I want to listen more than talk.
I want to be renewed and refreshed.
Celebrity Sighting
While walking through the Dallas airport this morning I had a celebrity sighting.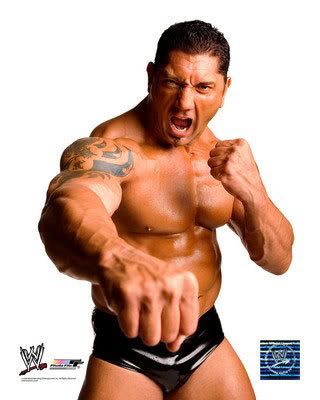 Celebrity in the WWE world anyways. I haven't watched wrestling in about 3-4 years but some students in CT loved it and I'd go to their house and watch pay per view events, plus once his dad couldn't go once, so I took him to Madison Square Garden see the spectacle. I couldn't help but notice a monster of a man walking towards me but when I saw the face and the soul patch I knew it was
Batista.
If only I had been wearing a Christian t-shirt, I could have witnessed to him. Frankly, that's the only way I would have, he looked intense just walking towards his flight. Perpetual roid rage?
11.13.2007
11.08.2007
Misc Youth Ministry Stuff
I'm having breakfast with
Doug Clark
tomorrow morning and then going to the office for a couple of hours before I take a group to
Mission Waco's
Poverty Simulation.
It'll be my third time participating in this great event run by
Jimmy Dorrell
and his lovely bride, Janet. On Sunday we'll get to go to one of my favorite churches,
Church Under the Bridge
. If Waco is too far away for you to drive to you need to buy
Plunge2Poverty
and have your own Poverty Simulation.
~~~~~~~~~~~~~~~~~
I'm looking forward to the National Youth Worker Convention in Atlanta in less than a week. Speakers are amazing and music is unbelievable but the best part is always being with old friends and making new friends.
~~~~~~~~~~~~~~~~~
This past Sunday night I was reminded why I still enjoy doing student ministry. Our Sunday night group was less than 20 and only senior high students. I began talking about leadership and biblical leadership but in a Socratic, interactive way with them. Some interesting takes and just students being students. Way too much talking and I told them more than once, that I loved student ministry but they were driving me nuts. Also joked with them that though I might threaten to go work with adults, I never would because even though adults are cordial and quiet during teaching times, too many of them are too boring to be around all the time.
So I felt like I limped through the message time but then decided to share some prayer requests and have them pray for each other. Probably shared 8 different requests and a student volunteered to pray for each one of them. Something happened during the prayer time that was unique and special.
Every single student prayed and it was more than the standard "
Father Weejus
" prayers. Prayer time seemed to go 12 or more minutes and the great contrast between the madness during the discussion and the quietness afterwards was obvious to all. Then that moment I love, when you stop praying and for a pause there is no sound or response because everyone seems to recognize prayer time was a little different.
Then the loudness and ruckus began as everyone left but everyone seemed to be aware of the specialness of the prayer time.
11.03.2007
No Trick Our Treat
I absolutely love
servant evangelism
. I first read
Conspiracy of Kindness
around 1995 and have done those sort of kindness projects since then.
I love it because it truly is a low risk and high reward form of sharing your faith and it's easy. On Halloween we gave away around 100 King Size candy bars around the neighborhood of our church. It's just fun to walk up to a door and say, "No Trick - Our Treat" and watch their faces.
Most people accepted the kindness and a few didn't but one story was kind of fun. We went to a home and gave an older woman a candy bar and explained why we did it. She replied, "I've been thinking about going to your church and now I'll be there this Sunday."
You never know what God is going to do and we don't know how God might use our kindness in the lives of the people later. Remain faithful and let God work. I tell you how much I absolutely love servant evangelism?