10.30.2006
If I were to have a heart attack right at this moment, I hope I would have just
enough air in my lungs and just enough strength in me to utter one last sentence as I
fell to the floor: "What a ride!" My life has been up and down, careening left then right,
full of mistakes and bad decisions, and if I died right now, even though I would love
to live longer, I could say from the depths of my soul,
"What a ride!"

Mike Yaconelli
July 24, 1942 - October 30, 2003
10.29.2006
Caffeine-Stoked Energy Drinks Worry Doctors
More than 500 new energy drinks launched worldwide this year, and coffee fans are probably too old to understand why.
Energy drinks aren't merely popular with young people. They attract fan mail on their own MySpace pages. They spawn urban legends. They get reviewed by bloggers. And they taste like carbonated cough syrup.

Vying for the dollars of teenagers with promises of weight loss, increased endurance and legal highs, the new products join top-sellers Red Bull, Monster and Rockstar to make up a $3.4 billion-a-year industry that grew by 80 percent last year.

Thirty-one percent of U.S. teenagers say they drink energy drinks, according to Simmons Research. That represents 7.6 million teens, a jump of almost 3 million in three years.
Read the rest of the article
A New Friend
I discovered a
new friend
the other day when I saw that someone had come to my blog from his. So here's to you
Mr. Anonymous Youth Ministry Blogger Man
& thanks for counting me Blogroll worthy!
I'm sure I'll add you to my list but I don't do that kind of stuff too often.
For now I'd encourage others to visit his site since he's currently at 103 hits and maybe you can have a new friend, too.
10.28.2006
My "Eternal Moment" at the YS Convention

Eternal Moment is the phrase I learned from my friend Jimmy to describe those moments amidst normal life when it seems as if you get to peek into the way the Kingdom of God is or should be or when God's presence is more than a theological proposition.

I had no agenda in attending the YS Convention except to relax and be with friends. During the 1st General session The David Crowder band sang and the lyrics "Wherever you are, wherever you've been, He's been there" appeared on the screen and I lost it and cried like a baby for about 2-3 minutes as I realized through it all over the last 2 years, God has been there and was indeed with me at that moment.

As a typical male who does not cry and is not in favor of emotions, I took that time to be was God's little way of blowing me a kiss.

I was so touched by it I dropped Crowder an e-mail and relayed the story and thanked him and them for their ministry to youth workers. I happen to have his home e-mail because back in 99 when they were known as "The UBC Band" I'm pretty sure I asked him for one of his first interviews for a website I ran with a couple of friends.

Part of what he wrote back is this: its amazing that something as simple as a bit of music can be the breath of god at times.

Amen & amen.

10.27.2006
Jimmy Dorrell is my Hero
I took a group of students to Church Under the Bridge once and some of the students met Jimmy on a mission trip to Mexico City and others had just met him. I told them, "You guys don't know this, but you just met one of the greatest Christians you will ever meet" and the students who knew him, said, "Yeah, he's right".
Jimmy Dorrell, unorthodox preacher, now a published author
In many ways, Jimmy Dorrell is the antithesis of what a pastor in Texas is imagined to be.

Rather than a mega church of steel and concrete, his Church Under the Bridge meets beneath the concrete and steel of I-35. Instead of wearing a flashy suit and Rolex watch, he's more apt to be found doing God's work while clad in a sweaty T-shirt, baggy shorts and scruffy ball cap. His flock isn't well-heeled or self-righteous, but a group of ordinary sinners like himself.

"And yet we have value because God has given us value," said Dorrell, executive director of the urban ministry Mission Waco.

And please don't call him "Reverend."

"I'm (just) Jimmy," said Dorrell, shepherd of Church under the Bridge for 14 years. "I say, 'Please don't call me 'Rev.' Don't put me on that pedestal, I'm just one of y'all.' "

They are calling him "Author" these days, instead. In late August, Dorrell released his first book, Trolls and Truth: 14 Realities About Today's Church That We Don't Want to See.

The $14.99, 224-page tome from New Hope Publishers was inspired, he said, by his congregation — folks like the mentally ill, homeless substance abusers, middle-class housewives, tattooed bikers and idealistic college students.

Mainstream Christianity, particularly the American variety, he writes, "has lost its prophetic voice in the culture," citing examples like the failure of many church budgets to reflect Christ-like priorities, or the people who'd rather give money to the poor rather than embrace them as equal members of the body of Christ.
Read the rest of the article
2 Years Ago Tonight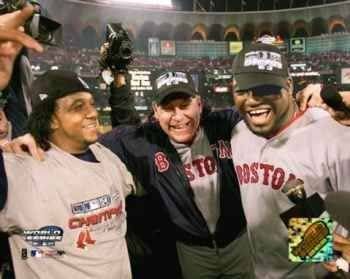 I watched the 2004 ALCS from Game 4 (from "
The Greatest Stolen Base in Red Sox History
") through Game 7 to complete the
Greatest Comeback in Sports History
against the
Evil Empire
this past week and the 9th inning of game four of the World Series tonight.
Congrats to
Andrew
,
Tim
and
Jasper
who are enjoying their Cards 2006 Championship.
10.21.2006
Jim
and I had a great time hanging out a couple of nights while in Austin. He is much more political on his blog than I am and typically we disagree but I love reading what he writes. Here's the latest about
David Kuo blowing the whistle on the White House
10.20.2006

free enneagram test
Full Details on
The Enthusiast
Is that me?
10.19.2006
I LOVE Tozer
I God may allow His servant to succeed when He has disciplined him to a point where he does not need to succeed to be happy. The man who is elated by success and cast down by failure is still a carnal man. At best his fruit will have a worm in it.
God will allow His servant to succeed when he has learned that success does not make him dearer to God nor more valuable in the total scheme of things. We cannot buy God's favor with crowds or converts or new missionaries sent out or Bibles distributed. All these things can be accomplished without the help of the Holy Spirit. A good personality and a shrewd knowledge of human nature is all that any man needs to be a success in religious circles today....
We can afford to follow Him to failure. Faith dares to fail. The resurrection and the judgment will demonstrate before all worlds who won and who lost. We can wait. Born After Midnight, 59.
"Father, keep me faithful today. I don't need to succeed in the world's eyes; I'll wait. Amen."
Daily Devo and prayer from
Insight For Leaders
10.14.2006
10.13.2006
Convention Thoughts
I love being able to attend the National Youth Worker Convention and hearing great speakers in the general sessions and practical ideas from the seminars but my favorite thing is seeing friends and meeting new friends.
Lizzy was a convention volunteer who helped do registration and all around helper. She reads my blog (really weird when you see someone and they make a reference to something you wrote on your blog, BTW) and it was cool to get to hear her heart for youth ministry. She is threating to start posting pics on her
blog
but until then, enjoy her words.
Matthew
is now a Youth Ministry Rock Star! People recognized him, asked him how much weight he's lost (which he had to say, "keep watching The Biggest Loser 3 to find out the total") and he'll have some cool things happening as a result of his dramatic weight loss and it couldn't happen to a better guy.
My funniest moment happened at The Journal of Student Ministries booth when
Walt Mueller
walked up. Walt and I were on a panel a couple of years ago so we saw each other and got caught up on some things. I introduced Walt to Matthew with something like, "Walt this is Matthew, he's from Maine."
Walt said, "Good to meet you Matthew. Hey, there's a youth worker from Maine on The Biggest Loser 3 this year, do you know him?" Matthew smiled and said, "That's me." I thought Walt was kidding but he wasn't so it was very funny.
10.10.2006
Wisdom from Tozer

Some time ago we heard a short address by a young preacher during which he quoted the following, "If you are too big for a little place, you are too little for a big place."

It is an odd rule of the kingdom of God that when we try to get big, we always get smaller by the moment. God is jealous of His glory and will not allow anyone to share it with Him. The effort to appear great will bring the displeasure of God upon us and effectively prevent us from achieving the greatness after which we pant.

Humility pleases God wherever it is found, and the humble person will have God for his or her friend and helper always. Only the humble are completely sane, for they are the only ones who see clearly their own size and limitations. Egotists see things out of focus. To themselves they are large and God is correspondingly small, and that is a kind of moral insanity.

A.W. Tozer in This World: Playground or Battleground? p34.

10.09.2006