5.31.2004


Which Princess Bride Character are You?
this quiz was made by mysti
Found
Chris' Blog
Found @
TheRedSeat.com
5.30.2004
Congregation to Worship Leader: You're Not Mac Powell!
STILLWATER, OK—Members of Stillwater United Methodist Church are tired of worship leader Jeffery Reiger "singing like he's (Third Day lead singer) Mac Powell."
"Everything is going along fine, and then he gets to a high note in the song," said Tonya Healy, one of a handful of SUMC members who have complained to THO about Reiger. "Then it's all 'glory to the Lowd ahhhn hahhh.' Oh, it's so annoying!"
Reiger admits that Powell is one of his "worship influences," but he doesn't see anything wrong with sounding like a successful Christian artist.
"We're talking about a Grammy and Dove Award winner here. They should be happy I sound like him," Reiger said. "Besides, if they wanted to actually pay me for doing this, maybe I could take some voice lessons."
Healy doesn't accept that explanation.
"You just have to hear this guy sing," she said. "It's like (Pearl Jam lead singer) Eddie Vedder and that guy from Hootie and the Blowfish got together and had a musically retarded love child."
From
www.HolyObserver.com/
A friend
IM'd me after a rough day with the instructions "Go there. Laugh" I went, I laughed. :-)
5.27.2004
IT's ALIVE!
I'm getting a paper version mailed to me this week to see before the final edit! It won't look pretty yet without the cover but I'm going to hold it in my hands. Should be cool!
5.26.2004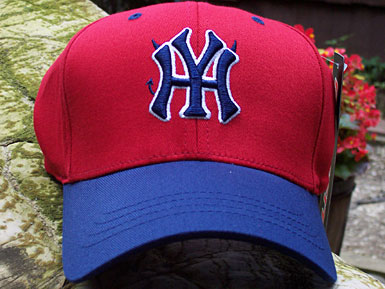 In honor of Curt Schilling who won last nights ball game against the A's and who wore that hat to a Bruins game, I'm going to buy it soon from
YankeesHater.com
5.24.2004
My wife is so cool!

Not only is my wife the better half, she's the cooler half and it was confirmed this past week when she got her first tattoo. A small butterfly near her knee. I said first because she came back and said, "I can see why people could become addicted to them".

I may get one on my 35th birthday.

5.23.2004
I recited Philippians 3 - 4:13 from memory today for part of our worship services. I heard good feedback about it. I think part of it is the wonder of hearing the Word of God versus just reading it and hearing it in context.

I'm sure the presentation of it being memorized was part of it because people said things like, "It came alive" and "I felt like I was hearing Paul talk to me" and other things. I have never heard those kind of things even when we read a chapter during a worship time.

I wonder if that sort of presentation would be considered PoMo or not?

Looking Closer Journal:
A bulletin board for notes on film, music, literature, and faith by Jeffrey Overstreet.
Jeffrey writes great stuff for Christianity Today and I've been a fan of his stuff for 2-3 years. He does a great job reflecting a Christian worldview without being a Chistian isolationist or Christian jerk.
5.21.2004
Did I mention that Tozer was a Prophet?

I wonder if you realize that in many ways the preaching of the Word of God is being pulled down to the level of the ignorant and spiritually obtuse; that we must tell stories and jokes and entertain and amuse in order to have a few people in the audience? We do these things that we may have some reputation and that there may be money in the treasury to meet the church bills....

In many churches Christianity has been watered down until the solution is so weak that if it were poison it would not hurt anyone, and if it were medicine it would not cure anyone!

A.W. Tozer in I Talk Back to the Devil

5.20.2004
Tozer was a Prophet
The contemporary moral climate does not favor a faith as tough and fibrous as that taught by our Lord and His apostles. The delicate, brittle saints being produced in our religious hothouses today are hardly to be compared with the committed, expendable believers who once gave their witness among men. And the fault lies with our leaders. They are too timid to tell the people all the truth. They are now asking men to give to God that which costs them nothing.
Our churches these days are filled (or one-quarter filled) with a soft breed of Christian that must be fed on a diet of harmless fun to keep them interested. About theology they know little. Scarcely any of them have read even one of the great Christian classics, but most of them are familiar with religious fiction and spinetingling films. No wonder their moral and spiritual constitution is so frail. Such can only be called weak adherents of a faith they never really understood.
A.W. Tozer
in That Incredible Christian p 76.
5.17.2004
Deep Thoughts with Nomah

His (Nomar Garciaparra) Catholicism remains important to him, though he says the clergy sex-abuse scandal shows how no religion is perfect. "Religion is created by man," he says. "Man is not perfect. So neither is religion."

5.16.2004
The family went into New York City today after church to see
Beauty and the Beast on Broadway
starring
Christy Carlson Romano
as Belle. The girls waited by the stage door and got her autograph along with 50 or so other litle girls and a few teenage boys.
While walking to
eat dinner
at
Planet Hollywood
we saw two members of the Nation of Islam street preaching and telling everyone who walked by that they were all deceived. The other great New York moment was seeing a homless guy holding a cardboard sign that said, "Tell me off for $2!"
From the moment you walk into
Grand Central
, there is a buzz in the air. Today was a good day in the City.
5.15.2004
I paid $2.13 a gallon for gas today.

5.14.2004
Adam
wrote a short post about
Staff Meetings
and I liked it. Not just the topic, his questions and the responses but the fact that we should be asking these kind of questions all the time about everything.
Are we doing the best with what we have? Is this what glorifies God the most? Why do we keep doing the same thing? Why are we here, again?
5.12.2004
I still miss Yac.

I listened to him yesterday on the web and read some of his rants. . . er. . . articles today. We need more people in the church who have the spiritual gift of bullcrap detecting. I will continue to miss Yac.

Searches that led to my little place

renee alston blog
I took the red pill buy tshirt
Hooray for Hollywood Entertainment April 16
rollen stewart picture
how to start a youth ministry
post-modernism Christianity brian mclaren
Carl's junior bobble heads
len evans


"
I'm going to give him country CDs and stuff. No more Tupac and stuff,I was going to get him some
United States of America underwear.
[Curt]
Schilling and I were talking about that. I just thought now that he's an American citizen, so he can wear that under his uniform.
"
Kevin Millar
on
Manny Rameriz
becoming a US Citizen
BoSox are only a 1/2 game ahead of the Evil Empire.
5.09.2004
I was in Chicago for a few days with a denom thing. It was good to be out there and see some friends.

5.02.2004
The Island of Misfit Youth Workers
is a blog I visit regularly and I realized I didn't have a link to it. doh! My bad, Shawn. Shawn and I have never met but I think he appreciates me and my little place since his link to my blog is "Len Evans - YOU ROCK!" Good to have some encouragement.
The
New England Youthworkers
site is finally up after years of "almost's" and "not yet's". Kemper is among my Triumvirate of Youth Worker Guru's. He is awesome!
5.01.2004
I found out tonight that some portion of an interview I did will be used in an upcoming article in
Outreach Magazine
about youth ministry and outreach. The writer interviewed different youth ministry types from around the country. It was fun to do, it should be fun to read what she compiled and explains.